The COVID Antibody Test is a medical test specifically designed for home use and your sample will be evaluated by our lab partner, Synlab, a leading Swiss lab.

With the COVID Antibody Test, we measure the level of COVID-19 antibodies in your blood. These antibodies are created by your body after having gone through a COVID-19 infection or after vaccination against COVID-19. Therefore, if you do have significant amounts of these antibodies and have not been vaccinated, you very likely had COVID-19 before. That means you are entitled to a COVID Certificate which is valid for 90 days and within Switzerland only without having to test regularly and without getting vaccinated. If test results show, that you did have COVID-19 before, you will automatically receive a COVID Certificate in your COVID Cert App. Learn more about the test>
As of November 16th, COVID certificates can also be issued to people, who can prove with a current, positive antibody test that they have recovered from COVID and that they have a sufficient amount of antibodies.
The certificate´s validity is limited to 90 days. At the end of the 90 days, the person can take another antibody test. If the test continues to be positive, an additional certificate can be issued. The certificate is only valid within Switzerland.
Find out if you had COVID-19 & get a COVID certificate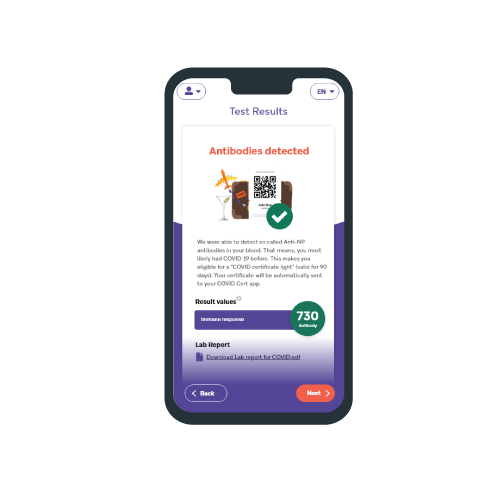 Clarity on whether you had COVID before
the test measures the levels of COVID antibodies in your blood
if you have not been vaccinated and you have significant amounts of antibodies, you very likely had COVID-19 in the past
as of November 16th 2021, this entitles you to a 90-day COVID certificate even if you are not vaccinated & even if you don´t have a positive PCR test from when you had COVID-19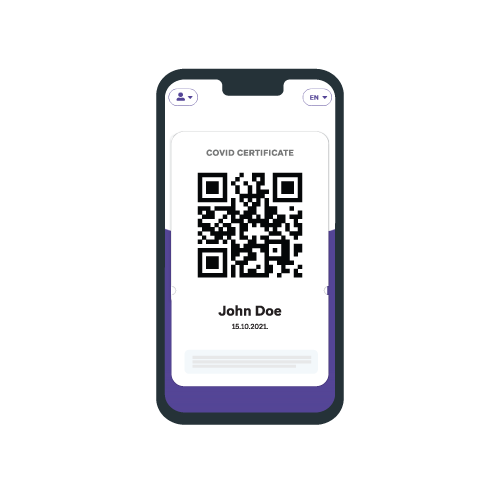 3-month COVID Certificate without vaccination or ongoing tests
as of November 16th, a positive COVID antibody test entitles you to a COVID certificate valid for 90 days and valid within Switzerland only
to get the certificate, taking the sample must be supervised & verified which we do with a selfie-video of your sampling process and an ID check
if test results show you had COVID, we will automatically issue a certificate to the COVID Cert App
How taking the test works
Order your COVID Antibody Test online
if you order before 5:30pm, your test will arrive the next working day with Swiss Post
if you order after 5:30pm it arrives on the 2nd working day
Generate transfer code in COVID Cert app
download the COVID Cert app and generate an official transfer code
this allows us to send your COVID Certificate directly to the official COVID Cert app once it is available
Activate test online & take your sample
activate your test online using the code in the test box & the transfer code from the COVID Cert app
to verify your identity, take and upload a selfie video showing us your ID and how you take the blood sample from your finger
Return your sample to the lab
put the sample into the Retourbox and return it to our Swiss lab by dropping the box into any mailbox
make sure that the mailbox is still emptied on the same day
Get your test results & COVID certificate
get test results online within 1-3 days
COVID certificate will be directly sent to the COVID Cert app and made available online for download

Your sample is analysed by Synlab, an accredited, large Swiss lab.
What do the results tell me?
The results tell you, if you have significant amounts of COVID-19 antibodies. If you do, that means you very likely had a COVID-19 infection in the past.
If you do have significant amounts of antibodies, you will also automatically receive a COVID certificate light which is valid for 3 months and within Switzerland only.
How does taking my sample work?
With the test kit, you receive all necessary sampling materials which you need to take a few drops of blood from your finger.

To do that, you prick your finger with a lancet and collect the blood drops in a small vial which we send you.
After collecting the blood, you put the sample in the Retourbox which we provide and drop it off in any Swiss post mailbox.
To verify your identity, you take a selfie video of how you take your sample and showing your ID.
Want to know more? On this page, you can find the instructions of how to take the sample: Instructions.
How reliable is the test?
The test procedure applied to analyse the sample is the same procedure, that would be used for a samle taken at the doctor´s office or the pharmacy.
Do I get a COVID certificate with this test?
Yes, if your test shows that you most likely had COVID-19 in the past, you will automatically receive a COVID certificate into your COVID Cert app.
The certificate is valid for 90 days and for within Switzerland only.
You can re-take the test after 90 days and if you still have sufficient antibodies, you will receive another 90 day certificate.
More products around COVID Testing
Saliva-based
COVID PCR Test
✔️checks for COVID infection, just suck on a sampling stick for 30 seconds from home, no nasal swab
✔️COVID certificate included with negative test
✔️2-factor antibody test to check if you had COVID-19 (no certificate) & if vaccination was successful
✔️ongoing updates about protection from variants, need for re-vaccination & more
✔️checks Anti-S1-Spike Antibodies to verify vaccination success
✔️test regularly to monitor how antibody level changes over time after vaccination to feel as safe as possible
We are adding new products all the time
Sign up to get access to our product scoop Whatsapp group with early access discounts and the chance to influence our product pipeline! Expect to receive your invite within a few days:)